Hewlett Packard (HP)
HP is justifiably one of, if not the, leading provider of business hardware to the global IT market. Solutions include laptops, desktops, stand alone, rackmount and blade servers to desk to office printers backed up with excellent warranty options. HP constantly strive to improve their products and services and regularly run promotions to add further value to their already impressive product set. Tiva have many years experience working with and supporting HP products and can testify to the quality and service the company offers.

Dell
Founded in 1984, Dell has long had a reputation for offering value for money with a direct marketing model for those happy to buy online. As hardware and software became more business critical resellers were encouraged to add their services to correctly configure, service and maintain this popular manufacturer. Products include business quality laptop, desktops, monitors, servers and printers plus Microsoft OEM software which can be upgraded to allow for future upgrades and movement between hardware.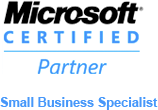 Microsoft
Microsoft is the world leader in operating system and desktop application software. Microsoft presence can be found on everything from televisions to mobile phones and over 90% of computers and servers sold today. Tiva is a Certified Microsoft Partner able to advise, install, configure and maintain Microsoft server and desktop products as well as upgrade from previous to current releases.
Microsoft partners who qualify as Small Business Specialists have proven competency in marketing, selling, planning and building solutions for small businesses. This qualification is based on real past experiences of consulting, planning, implementing supporting and troubleshooting real computer systems for small businesses.
The Microsoft Authorised Education Reseller (AER) programme allows Tiva to sell Microsoft products at academic prices to a range of eligible institutions, including educational users, charities, teaching hospitals, public libraries, public museums, public research establishments and government offices. By becoming authorised to sell Microsoft Academic Edition software products to education customers, we have established ourselves as a specially-trained company that is ready to provide complete solutions and services to customers.

Sophos
Sophos has over 20 years of experience offering a complete antivirus, anti-spam and anti-spyware solutions. Their solutions currently protect over 100 million users in over 150 countries. With a range of different solutions to help protect companies, from the small business through to the corporate enterprise level.

Symantec
Symantec is a global leader in infrastructure software, enabling businesses and consumers to have confidence in a connected world. The company helps customers protect their infrastructure, information and interactions by delivering software and services that address risks to security, availability, compliance and performance. Symantec has operations in more than 40 countries.

Kaspersky Lab
Kaspersky Founded in 1997, Kaspersky Lab is an international information security software vendor. Kaspersky Lab is headquartered in Moscow, Russia and has regional offices in the UK, France, Germany, the Netherlands, Poland, Japan, China, Korea, Romania and the United States. Further expanding the company's reach is its large partner network comprising over 500 companies globally.

Cyberoam
Cyberoam is unique among UTM appliances worldwide with its identity-based security management paradigm. With the individual user being the weakest link in enterprise security, external threats are targeting users through spyware, phishing, pharming, viruses and more. Further, insider threats account for over 50 % of threats faced by enterprises. At a time when current UTMs still offer IP-address based security, Cyberoam is the only UTM solution that offers user identity-based security, protecting enterprises from these emerging new threats.

Fastnet
Exclaimer FastNet specialise in delivering business grade Internet connectivity. Whether your requirements are for ADSL2+, SDSL or Leased Line FastNet offer a professional, secure service envied by other providers

APC
APC As a global leader in network-critical physical infrastructure (NCPI) solutions, APC sets the standard in its industry for quality, innovation and support. Its comprehensive solutions, which are designed for both home and corporate environments, improve the manageability, availability and performance of sensitive electronic, network, communications and industrial equipment of all sizes.

Spitfire Networks
Exclaimer Spitfire Networks is a London based Internet and telecommunications provider offering a range of Broadband & IP services to companies across the UK. Whether your requirements are for home, branch or central office Spitfire offer a complete, professional service via Tiva to ensure a resilient, cost effective solution
Don't just take our word for it!
Tiva look after all the IT in our UK office. They work with our French Parent company to implement the UK part of worldwide projects. We have a number of remote users who require constant access to our systems in the UK upon which we are very reliant. The Tiva staff are always knowledgeable and helpful
So, What do you think?
You may be satisfied with your technology, but could it be better?
If your values align with ours, let's talk.
Get in touch